Floor Clocks include grandfather clocks and grandmother clocks.  Some high-end makers, such as Howard Miller Clocks, Ridgeway Grandfather Clocks, Hermle Grandfather Clock Collection and even Kieninger Clocks seem to prefer to use the floor clock definition or nomenclature compared to a grandmother clock or a grandfather clock.
Having said that, new Contemporary Floor Clocks and contemporary grandfather clocks and grandmother clocks, are introduced over time by many of the leading grandfather clock makers. We are always open to new designs and new ideas for contemporary grandfather clocks, and have even thought of having a floor clock or grandfather clock design competition for contemporary floor clocks.  One key question is what would make a floor clock or grandfather clock design a winner?  How many floor clocks of that design we sell would be a popularity measure, but it is a lagging measure and the floor clock design award would have to be bestowed after many clocks were made.  Artistic originality for a floor clock design might work, but we don't want an artistic modern floor clock with, for example, a preserved shark in a clear glass container which is reminiscent of some recent art design awards of note.  We will not name the names of any artist here, as we may not being doing him/her artistic due or justice.
While most traditional floor clocks are made of wood cases, it is probably fair to say that many of the metal or metallic designs might be considered contemporary floor clocks.  Yet some wooden case clocks, usually featuring and incorporating unusual glass designs, would also definitely be classified by most all as contemporary.
Clock chimes on contemporary floor clocks or grandfather clocks may well be different from or add to the most commonly known Westminster Chimes, of Big Ben Tower Clock fame, as some newer movements have Beethoven's Ode to Joy and Schubert's Ave Maria incorporated into their mechanical cable driven grandfather clock movements.  This is different from the antique grandfather clocks which frequently were strike only, or the addition of the Whittington and St Michaels chimes most commonly found on many of the triple chime grandfather clocks made in more recent years.
Contemporary Floor Clocks, depending upon the definition of contemporary, also include newer features like automatic night-time shutoff, illuminated cabinets, and even illuminated dials on some models.  We believe we will start to see Atomic Grandfather Clocks and Atomic time Floor Clocks in the very near future as the technology becomes more and more popular.  We are still waiting for digital grandfather clocks and digital floor clocks.
Here below are several examples of contemporary floor clocks, and contemporary grandfather clocks and grandmother clocks as well.  Feel free to add floor clock contemporary design suggestions.

Hermle Single Chime Nantes Grandfather Clock
List: $15,573.00
SALE: $10,122.00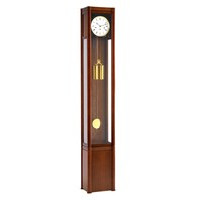 Hermle Single Chime Parkhurst Grandfather Clock
List: $7,836.00
SALE: $5,093.00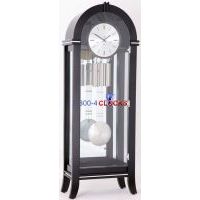 Americana Indio Grandfather Clock
List: $4,182.00
SALE: $3,136.50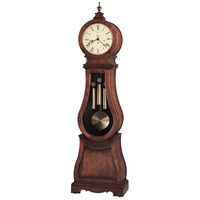 Howard Miller Arendal Grandfather Clock
List: $4,446.00
SALE: $3,112.20