Interior decorators and interior designers frequently look to clocks of all kinds, including wall clocks, mantel clocks and grandfather clocks as a way to add touches of color, home decor and a certain ambiance to a living room or bedroom in a home, whether the home is contemporary or classic.  One interesting note is that for new home construction, including in high-end residential multiple family structures, both for sales and rentals, we have had some major home builders purchase grandfather clocks to place in their model homes.  Guess what?  Apparently, many of the home buyer and house buyers will frequently key in on the grandfather clock and ask if they will get that exact clock if they were to purchase a home.  We have received a bunch of grandfather clock orders over the years because of this.  It is also good that the home builders in these cases went with a new vs antique grandfather clock because it would be difficult if not near-impossible to replicate antique grandfather clocks that are genuine antiques.  It would take locating exactly the same model and make, which is not an easy task.
Grandfather clocks in businesses and other organizations such as Universities, Hospitals, Museums, Government Agencies, pretty much you name it, seem to have a need and desire for one or many grandfather clocks to place on their property.  Planned communities and residential communities and homes targeting older populations also find a special need or desire for grandfather clocks. Purchasing agents are especially fond of working with us.
It is fascinating to us the extent to which more and more of the population and our customer base consider our website to be an enormous grandfather clock showroom, and appreciate the much greater product selection, from mantle clocks to wall clocks to grandfather clocks, than any single store, including our own, could ever offer to the public.
We have thought many times of devoting a website to which people could post pictures and videos of their favorite clocks.  We have even considered standalone websites for each of the major clock makers that we carry, such as one for Howard Miller Clocks, one for Museum Clocks™, another for Ridgeway Clocks, Hermle Floor Clocks and Kieninger clocks.  We would absolutely categorize it by type of clock, such was wall clocks, grandmother clocks, grandfather wall clocks, mantel clocks, atomic clocks, novelty clocks, wristwatches, radio controlled clocks, miniature clocks, custom clocks, neon clocks, skeleton clocks, grandfather clocks and automata, including what we refer to as wonder timepieces including congreve clocks and inclined plane clocks, just to name a couple.
Is there a lesson we have learned that we can share?  Absolutely.  Our opinion is that an investment in a grandfather clock, even or perhaps especially if you are thinking of selling your home or large apartment, will lead to a sale price that significantly exceeds the cost of a grandfather clock.
Did you also know that other terms synonymous with grandfather clocks include floor clocks, hall clocks, grandmother clocks (which are simply shorter versions of the same animal), tall case clocks and longcase clocks.
We invite you to pick up a copy of Architectural Digest, or House & Garden or even Vogue, thumb through the pages, particular when there is a room makeover or home makeover featured story.  It is quite likely that you will see a grandfather clock or wall or mantel clock in the "after" picture.  We have even been asked to and agreed to supply Vogue Magazine with a particular grandfather clock that they could and would and did use for just that very purpose.
Keep in mind that when you purchase a grandfather clock from 1-800-4CLOCKS.com, you get Free Shipping to the Continental USA and Canada, free in-home set-up by a certified technician (yes, anywhere in the USA!), and we charge no sales tax outside of New York State.  Additionally, we always work with our customers to offer the best possible price, because everyone loves grandfather clocks on sale and discount grandfather clocks, and we even spell out our low price guarantee on our website.
Here are some of our current bestsellers. Note that the Howard Miller Clayton Grandfather Clock and the Howard Miller Sewart Grandfather Clock each offer a particularly unique feature, which is a very high quality German mechanical movement which not only has the more customary Westminster Chime, but also has the Beethoven Ave Maria and Schubert Ode to Joy chime options.  These chimes are on a number of wall clocks and mantel clocks, but it is especially rare to see them on a mechanical chiming clock, which affords a much higher chiming sound quality.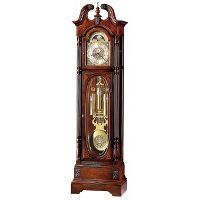 Howard Miller Stewart Grandfather Clock
List: $4,525.00
SALE: $3,167.50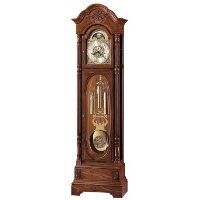 Howard Miller Clayton Grandfather Clock
List: $4,525.00
SALE: $3,167.50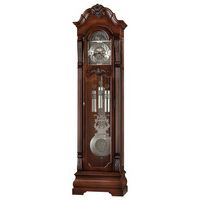 Howard Miller Neilson Grandfather Clock
List: $4,011.00
SALE: $2,807.70