Sometimes grandfather clocks for less is more and sometimes it is not.  If this sounds baffling, is the age old time truism that what you pay for is not what you always get, and sometimes you do get a grandfather clock that you expected for what you paid.
There are many elements to consider when shopping for grandfather clocks.  There is of course the grandfather clock itself, by such fine makers as Howard Miller Clocks and Ridgeway Clocks and Museum Clocks™ Grandfather Clocks.  But a grandfather clock shopper has to be extremely careful not to be fooled by appearances, or clocks that may look like the grandfather clocks of other makers which may have similar sounding names, only to find out that these grandmother and grandfather clocks may require major assembly, may be made of particle board vs solid wood, and may have a movement which is of very poor quality.
Smart grandfather clocks shopping, even when looking for grandfather clock discounts and grandfather clocks on sale, requires looking at elements beyond the brand.  This includes service, including delivery service and what exactly is offered and is it delivered in the way described.  We at 1-800-4clocks.com get many repeat clocks purchasers because they are so pleased with the delivery and free in-home setup we offer, by qualified professionals, to our customers for most floor clock purchases.
Grandfather clock product selection is another important element in a purchase decision.  In carrying only the finest brands with the best values, including Museum Clocks™ Grandfather Clocks and Kieninger Clocks, we make certain that customers are choosing only among high quality offerings, and yet still with a great range of selections and alternatives.  Our Museum Clocks™ Grandfather Clocks brand features many of the very same grandfather clocks, made by the very same people with the same solid wood and other materials, same high-quality mechanical triple chime German Hermle movement, that were made and offered by Bulova Clocks and the venerable Sligh Grandfather Clocks, neither of which currently offer or sell any grandfather clocks any more.
Quality movements are also vitally important, and currently all of our mechanical grandfather clocks feature German made movements made either by Hermle Clock or Kieninger Clock.  Those two companies are the only remaining high-end makers of grandfather clock movements that continue to make mechanical grandfather clock movements in any large quantity.
Quality and type of wood is also critically important.  Unless obvious, such as with a wrought iron floor clock, the grandfather clocks that we carry are all solid wood, sometimes with a certain wood veneer that is built to last more than the lifetime of the clocks.  Some brands, like our own Museum Clocks Grandfather Clocks, have cases that are made 100% of the type of wood described.  So an Oak Grandfather Clock or a Cherry grandfather clock means solid oak wood and solid cherry wood construction, even including the backside of the clock, where some makers make the wood razor thin thinking the grandfather clock will be up against the wall anyway.
Chimes and the sound quality are critical.  Mechanical movement chimes offer the best sound quality, and tubular chime grandfather clocks are in a class by themselves and will not even be discussed further in this post.  Cable-driven clocks can be simply a single chime Westminster Chime grandfather clock, or a triple Chime featuring most commonly the Whittington and St Michaels Chime additionally, and on a few select models the grandfather clocks may also have the Beethoven Ode to Joy and Schubert Ave Maria chimes as additional chiming options.  Mechanical chain driven grandfather clocks will typically have only the Westminster Chime, and few of the additional features such as auto night shut off and revolving moondial that many customers adore.
Additional features include automatic nighttime shutoff on many of the cable driven mechanical grandfather clocks and grandmother clocks.  Working or rotating moondials or moonphase dial, as opposed to a stationery faux dial on many chain driven mechanical clocks, can be an added bonus.  Illuminated grandfather clock dials, or lights in the interior cabinetry containing the weights and pendulum, are another added bonus feature.
So when considering what you get for your money, a grandfather clocks smart shopper needs to always do their homework, and know what they are getting for their hard-earned dollars.  Sometimes less is more, sometimes more is less.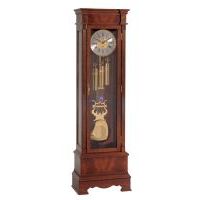 Museum Clocks Grandfather Clock Collection
Museum Clocks™