Today on Clocks Blog we want to feature to pocket watches owned by well-known individuals.  One belonged to the world's most famous escape artist and magician Harold Houdini.  It reasonably came up for sale at an auction, and the private buyer is rumored to be one of today's top magicians.   The other pocket watch we feature here was owned by the infamous Clyde Barrow of Bonnie and Clyde fame, as was an Elgin pocket watch.
On a quiet May morning in 1934, the most wanted bank-robbing gangster Clyde Barrow and his equally notorious accomplice Bonnie Parker fatally drove their car into an FBI ambush. The posse of lawmen fired over 130 bullets at the cornered couple, and when the smoke cleared, Bonnie and Clyde were dead.
Barrow was carrying his Elgin pocket watch when he met his violent end. That watch is being auctioned September 30 in New Hampshire and may bring between $50,000 and $100,000. The watch is an Elgin 17-jewel, ¾-plate, 16-size, open-face, 10K, gold-filled pocket watch, in its original Wadsworth screw-back and bezel case. It has stem winding and setting, with a railroad-style double-sunk dial, bold Arabic numerals, and bold blued-steel hands.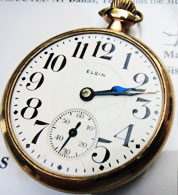 In the 1930s the criminal deeds of Bonnie and Clyde were celebrated in word and song. Their crime spree between 1931 and 1934 resulted in the robbery of over a dozen banks  and numerous rural stores and gas stations in several states in the Midwest and the South. Thirteen killings have been blamed on the gang.
Here is a photo of the actual pocket watch that was owned by Clyde Barrow.
Harold Houdini's pocket watch, perhaps not unexpectedly, was a much more complicated timepiece.  It was inscribed "To My Dear Pal Houdini, from his Sincere Friend, Harry Day, May 1914".  We understand that Harry Day was Harry Houdini's great friend and business manager, and this solid gold timepiece, whose maker is not known but is certainly of a very high caliber, is not only a Repeater Movement but is also a day month year calendar watch and stopwatch, with a moonphase no less, that would be an exceptional movement and timepiece were it in a grandfather clock size movement  or gallery wall clock or even mantel clock size, much less fitted into a small pocket watch case.
This watch was recently sold at Bonham's Auction House in California, and as noted above, and according to our sources, went to a well-known modern day magician.  Enjoy the pictures below of this master timepiece.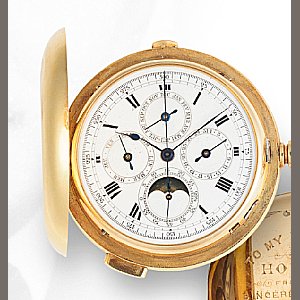 Harry Houdini Pocket Watch, sold recently at auction at Bonhams of California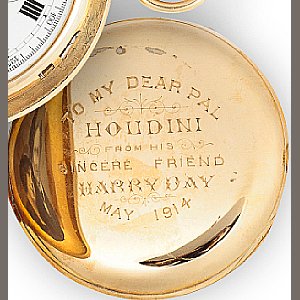 Harry Houdini Pocket Watch Engraving from Harry Day, May 1914
By having Bonnie and Clyde and Harry Houdini share any blog post much less a clock and watches relate blog post is likely a first.  About Harry Houdini's work we will only add that we have and will admire his contributions for the ages.  Bonnie and Clyde, nope.