If you have not been to the 1-800-4CLOCKS website lately to look at a chiming grandfather clock, wall clocks, or mantel clocks, it is worth a trip! When trying to decide which clock to buy and with what clock chime or chimes, now you can actually listen to the chimes on the 1-800-4CLOCKS.com website, and hear the Westminster Chimes, St Michaels and Whittington Chimes for yourself, before you buy.
The three above-mentioned chimes, which are shown and playable with each clock style that plays them, offer incredible sound quality that was recorded by a Recording Music Professional using clocks at our Store in Grand Central Station. The chimes can be listened to as many times as you like. The goal is to create as much of an in-person shopping feeling as humanly possible with current technology.
Clocks that play either the Westminster, St Michaels or Whittington Chimes should have the chimes below available for listening below each clock, available in flashplayer file format with which most every web user has had experience. It is important to reach each product's description to be positive that the chimes shown match the chimes described in the description of the clock.
All of the chimes can of course be heard in person at our New York City Grand Central Station Store.
The Ode to Joy and Ave Maria Chimes are expected to be added to the 1-800-4CLOCKS.com website within the next 1-2 months, for clocks that offer those musical chimes.
All input from clock, horology, and timepiece or music enthusiasts is encouraged and welcomed any time.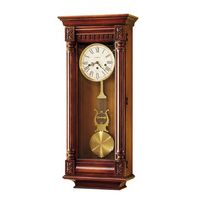 Howard Miller Westminster Chimes New Haven Wall Clock Model 620-196