In the world of clocks and watches and pocket watches, there is a very natural and historical time divide in the standardization and resulting ease of obtaining clock and watch and pocket watch parts to repair clocks or watches. This is true not only based on the age of the timepiece, but also for repairs for clocks and watches originally made within and between both Continents and individual countries.
The two most important contributors to this dichotomy are 1. that European clocks and pocket watches have a much longer history of being produced, with much diversity both within and between countries of origin, and 2. USA Pocket Watch and early Clockmakers — e.g. Seth Thomas Clocks, Ridgeway Clocks, Howard Miller Clocks — starting production at least a century later in time, and most went to great lengths to standardize aspects of both early clocks components and parts for pocket watches (with companies such as the Waltham Watch Co., Elgin Watches, and the Hamilton Watch Company). With the documentation and standardization of parts and component sizes and diagrams, making repairs became immensely easier and even possible.
European pocket watches and clocks, have had home grown, and in many cases family owned clockmaking and watchmaking businesses, and had enormous variations in parts, including component sizes and design, both within and between countries, over time, and even in the same countries in the same generations (e.g. Swiss pocket watches being made by hundreds or thousands of different families and individuals, say during the 1800s). This is as true for England as it was for France and Germany during this earlier era of horological history.
The positive side of this is that there is much more diversity and uniquity in Antique Clocks and Antique Pocket Watches (giving rise to pocket watch and later watch brands as well known and respected as Patek Philippe, Omega, Audemars Piguet, Vacheron and Constantin, A. Lange & Sohne, Jaeger, Le Coultre, Zenith, Breitling, Movado and of course Rolex Watches) from Western Europe. The very real negative side of this is that if a part is missing or broken from a pre-1900 era pocket watch or clock, finding a replacement part can be, based on experience, 100 times harder to make happen. Frequently parts have to be hand-made in this instances, and with a dwindling population, across the world, of watchsmiths and clocksmiths who are capable of doing so. European timepieces are another world for collectors, and a diverse one at that. But the world of European Clocks and European Pocket Watches is well worth getting to know. There is a LOT to learn in this fascinating world!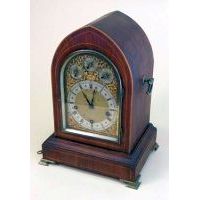 circa 1890 Winterhalder Hoffmeir 9 Gong Musical Bracket Clock … from still early stages of more standardized clockmaking and watchmaking