Would you like Schubert's Ave Maria Chimes with that Howard Miller Grandfather Clock?  Or perhaps you are more of a fan of Beethoven's Ode to Joy grandfather clocks chime.  What about the most popular Westminster Chime in the mechanical movement of your chiming Howard Miller Grandfather Clock?  What if you could get a triple-chime grandfather clock that came with all three of these grandfather clock chimes?
Typically, historically, grandfather clocks that had chimes would almost always have the Westminster Chimes.  If other additional chimes were available in mechanical chiming grandfather clocks, most all of the time these grandfather clock chimes would be the Whittington Chime and the Saint Michael Chime.
In more recent years, both Kieninger Clocks and Hermle Clocks, the two remaining movement makers who make high-end mechanical grandfather clock and grandmother clock movements in any quantity, started making movements which include the Westminster, Ave Maria, and Ode to Joy chime combination in single movements.  So any buyer and owner or user/listener of a high-end grandfather clock with this mechanical movement can hear whichever chime the grandfather clock's movement is set to whether it is the Beethoven Ode to Joy, Schubert Ave Maria, or the more traditional and classic Westminster Chime.  All three chimes are built in, and there is a lever the owner or user could move to switch the clock from one chime to another.
Howard Miller Grandfather Clocks offer the biggest selection of clocks with this Westminster Ave Maria Ode to Joy chime combination, and Hermle grandfather clocks, Ridgeway Grandfather Clocks and Kieninger grandfather clocks also offer clocks with this feature.  On rare occasions, we have even customized clocks with this special triple chime movement, which is still make by both the Hermle and Kieninger Clock companies.  Grandfather clocks with both a traditional and contemporary look are available with these mechanical chimes.  Some offer illuminated dials on the grandfather clocks and in the cases as well.  Some of the Tubular Chime Grandfather Clocks offer this special Westminster, Ode to Joy, and Ave Maria chime combination as well.
To whet your appetite, here are by far the 2 most popular triple chime Howard Miller Grandfather Clocks with the Westminster, Ave Maria, and Ode to Joy mechanical Clock Chimes built in.  They are the Howard Miller Clayton Grandfather Clock, in Oak, and the Howard Miller Stewart grandfather Clock, in Cherry.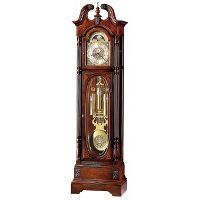 Howard Miller Stewart Grandfather Clock  model 610-948 610948
List: $4,825.00
SALE: $3,377.50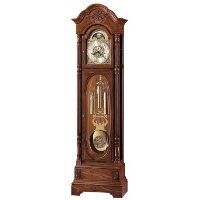 Howard Miller Clayton Grandfather Clock  model 610-950 610950
List: $4,825.00
SALE: $3,377.50