The Ridgeway Grandfather Clocks company has the little-known distinction of being the American grandfather clock company that has made and crafted and manufactured grandfather clocks for the most number of years continuously and without interruption.  While companies like Seth Thomas Clocks have been around longer, and made many many wonderful Seth Thomas grandfather clocks and floor clocks over many years, they did have interruptions in production.  Howard Miller Clocks is younger.  Hermle Clocks, a German grandfather clock company, only started their Made in America series this past year.  Sligh Grandfather Clocks and Floor Clocks are no longer in business.  Herman Miller Grandfather Clocks were made in only very small numbers.  Herschede came and went.  Bulova Floor Clocks also came and exited the floor clock and grandfather clock business.  Emperor grandfathers Clocks, Pearl Grandfather and Floor Clocks, Trend Floor Clocks, and newer upstarts like Americana Grandfather Clocks.
The author of this post also believes he recollects the trademark phrase that was used by Ridgeway Clocks, being the "Heartbeat of the Home".  Very elegantly stated, and meaningful to many floor clock and grandfather clock and grandmother clock owners over many generations.
Kieninger Floor Clocks has been making clocks for many many years, but we do not know if this German company, for whom we are an Authorized Dealer, made grandfather clocks and floor clocks continuously through these years.  Probably not too likely given the time period included WWII, among many many other variables.  Kieninger is known also as one of the finest mechanical floor clock movement makers remaining, as is Hermle Clocks.
Museum Clocks grandfather clocks and floor clocks is a great brand that we were proud to introduce, but as of this moment we are no longer producing these clocks.  We may gear up production on new floor clocks soon.  We will see what happens with the global economy.
Elliot Clocks is another British Maker of fine grandfather and floor clocks, but we have not seen their clocks in many years.
There are other clock makers out there like Commiti and Hentschel and Sinclair and Harding that make high quality pieces, yet we are not aware of the historic timeline of their floor clock production.
If anyone is aware of a book, or even a college or graduate school horological floor clock and grandfather clocks thesis on the floor and grandfather clock and grandmother clock history in the 20th century and beyond, we would be extremely interest in getting a copy, and perhaps even publicizing it if the author so desires (with appropriate copyright permissions, of course)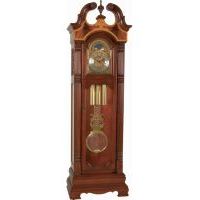 Ridgeway Beverly Hills Grandfather Clock model R2511   plays Westminster Chimes on a German mechanical cable-driven 8 day movement
List: $6,265.00
SALE: $4,385.50